Reviews for Forever Captured Photo Booth Rentals in the Lower Mainland
Forever Captured Photo Booth Rentals is a photo booth rental company that serves Vancouver and surrounding areas. They have 54 reviews on Yelp, Google Plus, Facebook, and WeddingWire. Overall, their reviews appear to indicate that people are very happy with their service. If you rent a photobooth from them, try to leave a review for them on Yelp.ca, Google Maps, Facebook, or WeddingWire.com once your event is over so that other people can get a better idea of how well they deliver their service.
Unlike some companies that offer photobooth rentals as a side business, they are Forever Captured's core business. So your chances of dealing with real photo booth experts who are passionate about what they do are most likely higher with this company.
What is unique about Forever Captured is that they create some of the most beautiful photo booth print layouts in Canada and integrate the layout and event theme into their booth's touch screen. Guests can also share their photos from a social sharing kiosk.
Forever Captured Photo Booth Rentals

778-899-5685
info@forevercaptured.ca
151 – 10090 152 Street
Surrey, BC V3R 8X8
What Forever Captured Photo Booth Rentals Offers with Their Photo Booth Rentals
All photo booth rental companies in the Lower Mainland provide an on-site attendant, free delivery, setup, and take-down when you rent from them, and almost all companies require a minimum rental time of at least 2 hours. When it comes to their service, Forever Captured offers more features and options than the majority of photobooth rental companies in Greater Vancouver.
Here are some of the highlights of what they offer:
They provide unlimited photos for the full duration of your event (almost all photo booth rental companies in Greater Vancouver include unlimited photos when you rent a booth from them).
Your choice of backdrops for your guests' pictures (No rental companies in the Lower Mainland include this option as part of their package for no extra charge).
A prop box with fun items for your guests to pose with for their pictures. Things like goofy hats, mustaches, feather boas, and over-sized glasses are often included. No vendors provide these kinds of props with their rentals.
A monitor screen that allows your guests to see themselves pose for their pictures. Three-quarters of photo booths now have these.
They allow you to include your event name or a logo on your event's or wedding's photo strips. No companies also include this option with their package.
An online photo gallery for your guests to view and download digital copies of their pictures after your event. Most vendors include this.
They give you a DVD or USB stick with all the photographs after your event.
They allow your guests to email their photos to friends. 66% of companies include this option with their service.
Your guests can share their pictures on social media sites like Facebook, Twitter, Pinterest, or Instagram during the event. Only 0% of companies include this with their package.
Forever Captured also offers other options. Check out their website to find out more.
<< See what other photo booth rental companies offer in Greater Vancouver
What Their Photo Booth Looks Like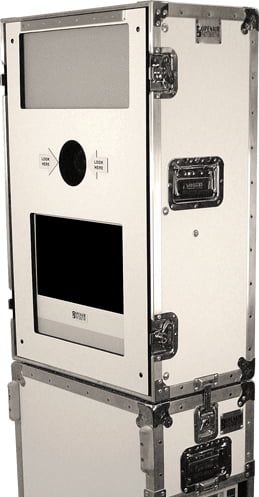 To learn more about Forever Captured Photo Booth Rentals, check out their website, see how the features they offer compare to other service providers, and see how their photobooth looks compared to others.