Reviews for D4 Photobooths in the Lower Mainland
D4 Photobooths is a photo booth rental company that serves Vancouver and surrounding areas. They have 12 reviews on Google Plus and Facebook. Overall, their reviews appear to indicate that people are very happy with their service. It would be good to see more reviews for them. If you rent a photobooth from them, try to leave a review for them on Yelp.ca, Google Maps, Facebook, or WeddingWire.com once your event is over so that other people can get a better idea of how well they deliver their service.
Unlike some companies that offer photobooth rentals as a side business, they are D4 Photobooths's core business. So your chances of dealing with real photo booth experts who are passionate about what they do are most likely higher with this company.
What is unique about D4 Photobooths is that their enclosed booth fits 8 to 12 people. They are also really competitive on pricing. They are one of the cheapest photo booth rental companies in Greater Vancouver, and they will beat any advertised price by 10% of the difference. However, they do charge extra for any tolls or paid parking.
D4 Photobooths

604-355-0372
d4photobooths@gmail.com
What D4 Photobooths Offers with Their Photo Booth Rentals
All photo booth rental companies in the Lower Mainland provide an on-site attendant, free delivery, setup, and take-down when you rent from them, and almost all companies require a minimum rental time of at least 2 hours. When it comes to their service, D4 Photobooths offers more features and options than the majority of photobooth rental companies in Greater Vancouver.
Here are some of the highlights of what they offer:
They provide unlimited photos for the full duration of your event (almost all photo booth rental companies in Greater Vancouver include unlimited photos when you rent a booth from them).
You get to select one of their backdrops for your guests' pictures (No rental companies in the Lower Mainland include this option as part of their package for no extra charge).
A prop box with fun stuff for your guests to put on and pose with for their pictures. Silly things like mustaches, over-sized glasses, goofy hats, and feather boas are typically included. No vendors supply these kinds of props with their rentals to make things more interesting.
A monitor screen lets your guests see themselves pose for their photographs. Three-quarters of photo booths now have these.
They let you add a logo or event name to your event's or wedding's photo strips. No companies also include this option with their package.
An online photo gallery where your guests can see their pictures after the event and download them. Most vendors include this.
D4 Photobooths also offers other options. Check out their website to find out more.
<< See what other photo booth rental companies offer in Greater Vancouver
What Their Photo Booths Look Like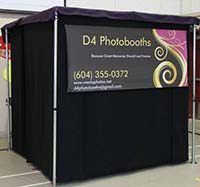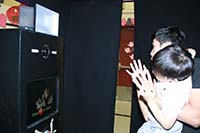 To learn more about D4 Photobooths, check out their website, see how the features they offer compare to other service providers, and see how their photobooths look compared to others.